Regular price
$49.99 USD
Sale price
$49.99 USD
Unit price
per
Sale
Sold out
Hylē Hydration Recovery Formula is complete protein formula designed to help endurance athletes recover faster.
Great tasting all-natural ingredients
Complete protein formula mimics the composition of human muscle tissue
3:1 ratio of carbohydrates to protein
5g of Glutamines

Electrolytes to replace what you lose through sweat
Vegan. Gluten Free. Soy and Dairy Free. No artificial sweeteners or colors. No preservatives.

View full details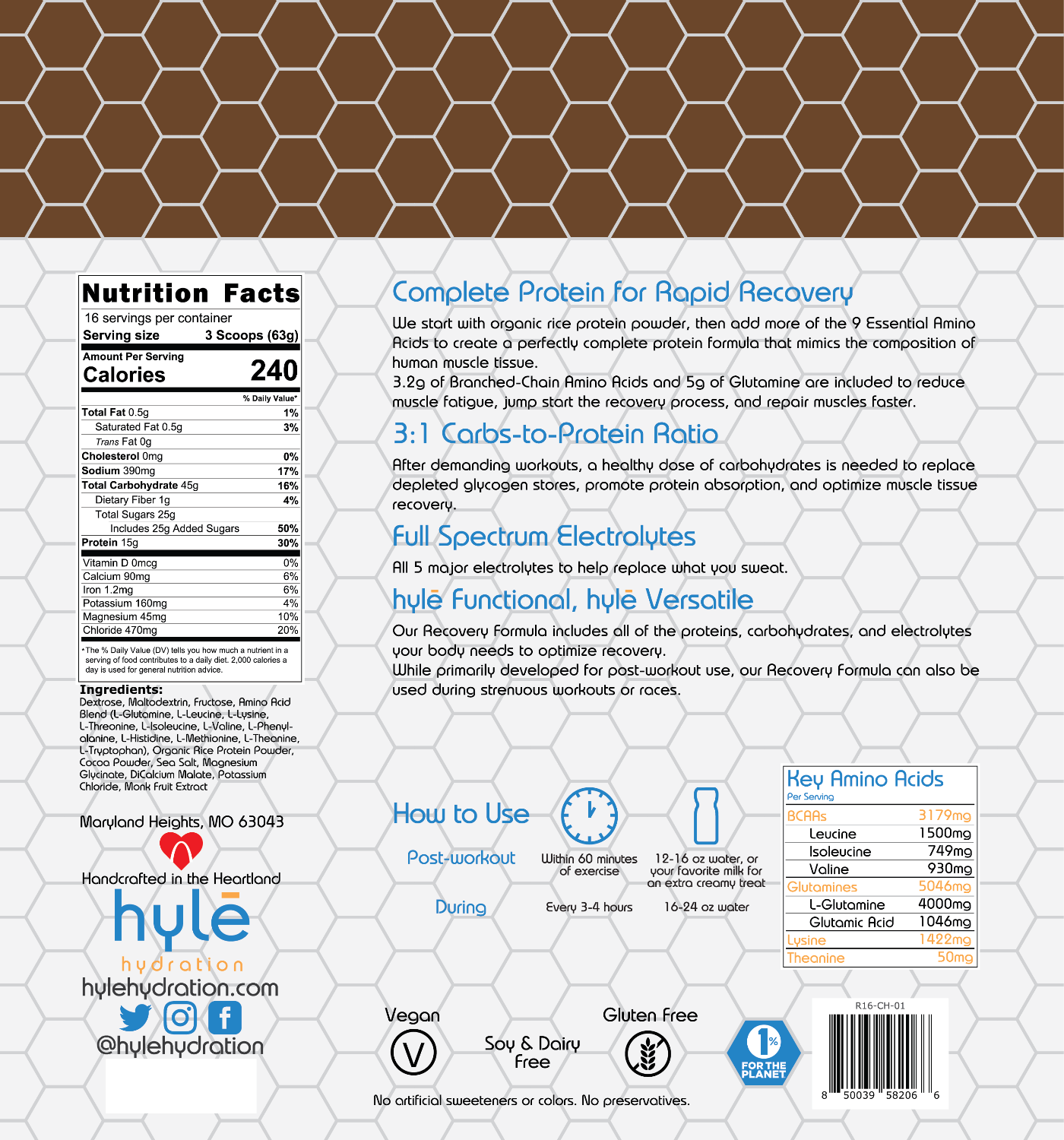 Collapsible content
Hylē Functional. Hylē Versatile

Hylē Hydration Recovery Formula includes all of the proteins, carbohydrates, and electrolytes your body needs to optimize recovery.

While primarily developed for post-workout use, our Recovery Formula can also be used during strenuous workouts or races.
Complete Protein

We start with organic, vegan rice protein powder, then add more of the 9 Essential Amino Acids to create a perfectly complete protein formula that mimics the composition of human muscle tissue.

3.2g of Branched-Chain Amino Acids and 5g of Glutamine are included to reduce muscle fatigue, jump start the recovery process, and repair muscles faster.
Carbohydrates

After demanding workouts, a healthy dose of carbohydrates is needed to replace depleted glycogen stores, promote protein absorption, and optimize muscle tissue recovery.
Electrolytes

All 5 major electrolytes to help replace what you sweat.

Sodium 390mg

Potassium 160mg

Calcium 90mg

Magnesium 45mg

Chloride 470mg
Ingredients
Dextrose, Maltodextrin, Fructose, Amino Acid Blend (L-Glutamine, L-Leucine, L-Lysine, L-Threonine, L-Isoleucine, L-Valine, L-Phenylalanine, L-Histidine, L-Methionine, L-Theanine, L-Tryptophan), Organic Rice Protein Powder, Cocoa Powder, Sea Salt, Magnesium Glycinate, DiCalcium Malate, Potassium Chloride, Monk Fruit Extract
Recovery Formula FAQs
How should I use Recovery Formula?

We recommend consuming 1 serving immediately after strenuous activity. Mix with 12-16oz (350-500ml) of water. You can also mix it with your favorite milk for an extra creamy treat!
Recovery Formula is also intended for use during longer activities -- consume 1 serving every 3-4 hours with 16-24oz (500-700ml) of water.
Is Recovery Formula a complete protein product?

Absolutely! We provide all of the Essential Amino Acids in amounts that satisfy World Health Organization definitions of a complete protein nutrition source.
How does Recovery Formula mimic muscle tissue composition?

Not only is our Recovery Formula a complete protein nutritional source, we also formulated it to have an Essential Amino Acid profile that very closely resembles levels found in human muscle tissue. With Hylē Hydration Recovery Formula, you'll be giving your muscles exactly what they need to repair quickly and rebuild stronger than ever!
How much is 1 serving?

Each serving of Recovery Formula is 63g and contains 240 calories -- 45 grams of carbohydrates and 15 grams of protein. Our bags come with a 33cc scoop -- 3 level scoops per serving.
What allergens are in Recovery Formula?

Our Recovery Formula contains no major allergens. Hylē Hydration Recovery Formula is vegan, gluten free, soy and dairy free, and contains no artificial sweeteners or colors.
Additionally, we source our cocoa powder from a manufacturer who processes cocoa on production lines that are dairy- and nut-free, to avoid any potential contamination.
Where are your ingredients sourced?

An overwhelming majority of our ingredients come from Midwest manufacturers. All ingredients are purchased from US-based companies.
Where is Recovery Formula manufactured?

We are very proud of the fact that we manufacture our nutrition products in our own dedicated facility. Unlike many other sports drink companies, we do not outsource our manufacturing, known as co-packing. This enables us to have complete control over the design, development, and production of our nutrition formulas. Moreover, this allows us to offer our products at a reasonable cost to athletes by avoiding unnecessary middle-men.

Our facility is located in St. Louis, Missouri.

Hyle Hydration truly is sports nutrition made for athletes, by athletes.
Is Recovery Formula Informed Choice Certified?

Not yet, but we intend on sending off samples to Informed Choice to be tested for certification in the very near future. We have every expectation of being certified.